News
Final Remediation Begins at the Percheron Park Site!!
Heavy excavation set for Sept. 16th through 27th 2019
Remediation on the future site of Percheron Park will begin (continues) on Monday, Sept. 16, Moorestown police announced. Drivers should expect delays on Main Street in the vicinity of High Street while work is being done from Sept. 16-27.
High Street north, toward Main Street from Prospect Avenue, will be closed to traffic. High Street south will be open, but there will be no parking permitted on that side of the street to assist the flow of traffic.
Due to the proximity of the heavy equipment working onsite, the sidewalks adjoining the site will be closed until the completion of the project. Drivers should watch for workers in the area. Police will be on location to assist with traffic.
By Anthony Bellano, Patch Staff
Percheron Park Horse Sculptor Commissioned
The Friends of Percheron Park has announced the commissioning of Joshua Koffman of Philadelphia as the sculptor for the life-sized bronze representation of the Percheron stallion "Diligence" in Moorestown, NJ. Koffman holds a Bachelor of Arts degree in Fine Art from the University of California at Santa Cruz and a certificate from the Pennsylvania Academy of the Fine Arts, where he serves as a member of the faculty in Philadelphia.
Mr. Koffman has received a number of awards and honors for his work, which is displayed among private and public collections. (www.joshuakoffman.com) "We are very pleased to have the privilege of working with Joshua on this project so important to the history of Moorestown and our country," commented Kathy Logue, president of The Friends of Percheron Park. The statue will take approximately one year until completion.
Ten-inch models of the statue are available by pre-order for $5,000.
Click on the image to enlarge it.
Click here for order form.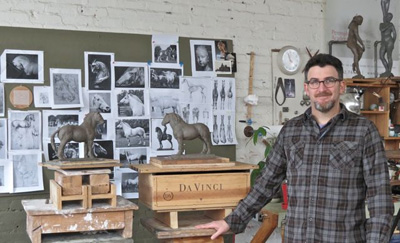 ---
– Beautiful Commemorative 'Diligence' Posters for Sale –
Sure to become a treasured Moorestown collectors item!
Unframed – $15.00
With classic black frame – $40.00
Call 609-230-1115 for purchase & delivery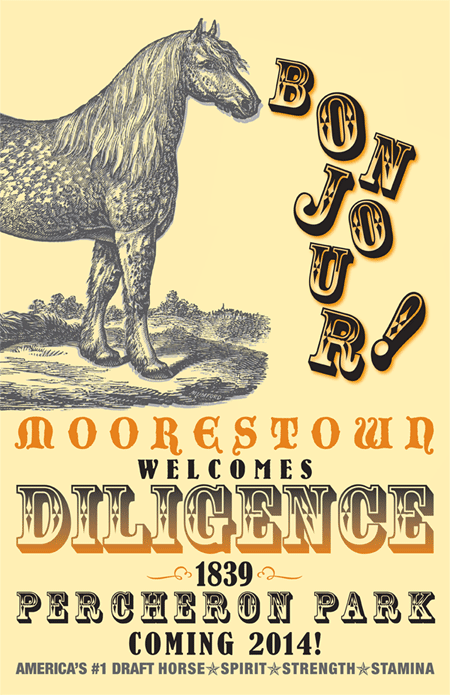 ---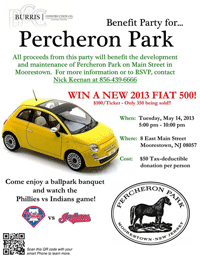 Our sincere Thank You to Bill Burris and Family, the Staff of Burris Construction Co. – most notably Nick Keenan and Kim Jordan, the Sponsors, Donors, and Supportive Citizens, for making the Burris Open House a SUCCESS! Congratulations to the lucky winner of our Grand Prize – A Brand New Fiat!